Carbon fiber is a kind of carbon content in more than 95% of the high strength and high modulus fibers of new fiber materials. It is made of flake graphite crystallite organic fiber along the fiber axial direction, such as pile, by carbonization and graphitization treatment of microcrystalline ink materials. Carbon fiber "velvet glove", quality lighter than aluminum, but strength is higher than that of steel, and has the property of corrosion resistance, high modulus. It not only has natural intrinsic characteristics of carbon materials, and the soft machinability of textile fiber, is a new generation of reinforcing fiber.
Carbon fiber carbon materials have been in the areas of military and civilian industry has a wide range of applications. From aerospace, aviation, automobile, electronic, mechanical, chemical, textile and other civilian industry to sports equipment and leisure products and so on. Carbon fiber reinforced composite material can be used in aircraft manufacturing, and other areas of the military, and industrial area, such as wind power blades, electromagnetic shielding, in addition to the body, such as electric materials, artificial ligament substitute material and used in the manufacture of rocket shell, powerboat, industrial robots, automobile plate spring and the drive shaft, etc. Carbon fiber is a typical new industrial materials in the field of high-tech.
For dry carbon fiber, the difficulty is to partition the control of the temperature must be accurate and uniform, these parameters we engineer to communicate with the department of technical personnel also made many experiments, finally it is concluded that an ideal with satisfactory results. The set of carbon fiber drying system includes three layer drying furnace, horizontal main fan, exhaust fan, the junction box loop pipe, heat resistance, etc., contains two separate hot air circulation system, every temperature zone separately set up four temperature measuring points, convenient observation and adjustment of the clients.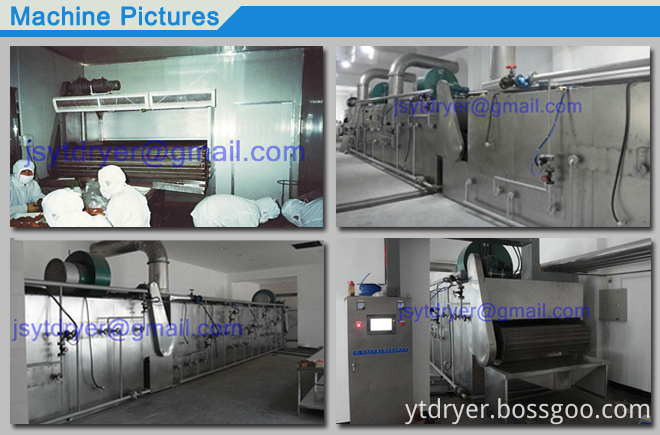 Features
This type of belt drying equipment offers high efficiency and low energy consumption.
The drying area, drying temperature, air pressure, and belt speed etc. can be adjusted so as to better suit vegetable quality requirements.
According to different characteristics of the vegetables, auxiliary equipment is also available.
Technical Specifications of Belt Dryer for Dehydration Vegetable Company Information
| | | | | | | |
| --- | --- | --- | --- | --- | --- | --- |
| Model | DWT1.6-Ⅰ (feed table) | DWT1.6-Ⅱ (middle table) | DWT1.6-C (discharge table) | DWT-2-Ⅰ (feed table) | DWT-2-Ⅱ (middle table) | DWT-2-Ⅲ (discharge table) |
| Belt width m | 1.6 | 1.6 | 1.6 | 2 | 2 | 2 |
| Drying section length m | 10 | 10 | 8 | 10 | 10 | 8 |
| Spreading thickness mm | ≤100 | ≤100 | ≤100 | ≤100 | ≤100 | ≤100 |
| Temperature ℃ | 50-150℃ | 50-150℃ | 50-150℃ | 50-150℃ | 50-150℃ | 50-150℃ |
| Heat transfer area m2 | 525 | 398 | 262.5 | 656 | 497 | 327.5 |
| Steam pressure Mpa | 0.2-0.8 | 0.2-0.8 | 0.2-0.8 | 0.2-0.8 | 0.2-0.8 | 0.2-0.8 |
| Drying time h | 0.2-1.2 | 0.2-1.2 | 0.2-1.2 | 0.2-1.2 | 0.2-1.2 | 0.2-1.2 |
| Installed power kw | 15.75 | 12.75 | 9.55 | 20.75 | 16.75 | 12.55 |
| Outline dimensions m | 12×1.81×1.9 | 12×1.81×1.9 | 10×1.81×1.9 | 12×2.4×1.92 | 12×2.4×1.92 | 10×2.4×1.92 |
Jiangsu Yutong Drying Engineering Company is a High-New Technology Enterprise in China. With over 14 years of experience, we are able to provide a wide variety of products, including drying machine, grinding machine, granulator, mixing machine, and more. Features like compact structure, high efficiency, and low energy consumption have resulted in our products being increasingly used in the pharmaceutical, chemical, food, light industry, dyes, mineral products, electronics, ceramics, plastics, agricultural products, pesticides, feed, fertilizers, and other industries.
At Yutong, our cooperative relationships with many research institutes and universities enable us to constantly improve product performance and develop new drying machines, mixers and feed machines. As a result of our focus on innovation, we have received many national patents.
Since our foundation, we at Yutong have been committed to providing high quality products to our customers. In order to ensure our quality requirements are maintained, we implement the ISO9001:2008 quality management system, purchase our raw materials from reliable suppliers, continue to introduce advanced equipment, and employ highly skilled staff. The quality of our equipment is repeatedly checked during each stage of production. In addition, all machines must undergo a trial run in the workshop, and only those qualified products are allowed to leave our factory. Due to their consistent quality, Yutong drying machines, mixing machines and grinding machines have been awarded many honors, including Recommendation for High-quality Products by IQAC and Recommended Products for International Trade by the U.S. Asia Economic Trade Cooperation Committee.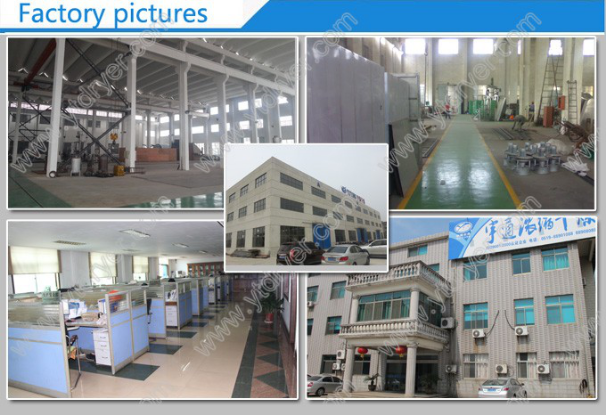 At Yutong, many cost saving measures are also implemented to reduce our production costs. For example, we have established a local information network and carried out an efficient information management system (in terms of warehousing, production planning, and order tracking), thus reducing our operating costs. Additionally, we have long-standing relationships with local raw material suppliers, so we are able to acquire our high quality raw materials at reduced cost. Furthermore, our location in Changzhou City, Jiangsu Province provides us with easy access to convenient transportation, enabling us to transport our products economically. As a result, we can provide our quality spray dryer, double cone blender and rough grinding machine at affordable prices.
In addition to high quality and reasonably priced products, we at Yutong provide customers with considerate service. Our products come with a one-year warranty, during which we can provide staff training, on-site installation, and debugging services upon request. We also provide wearing parts at our cost prices. Hence, our drying machine, mixing machine, and sifting machine are very popular in USA, Canada, Italy,United Kingdom, German, Cyprus, Turkey, Korea, Japan, Vietnam, Thailand, Argentina, Chile, Brazil and so on.
We look forward to cooperating with partners from all the world to build win-win cooperation relationship in long term. Welcome for your visit and instigation!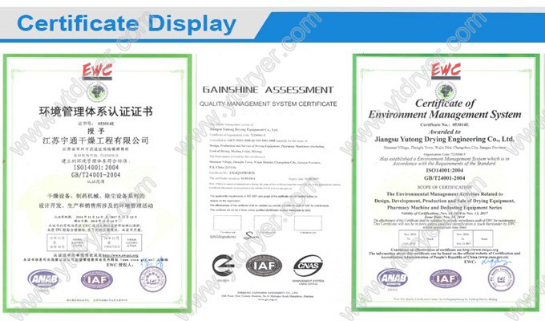 Our Services
Pre-sale service
Act as a good adviser and assistant of clients to enable them get rich and generous returns on their investments.
1. Introduce the product to the customer in detail, answer the question raised by customer carefully;
2. Make plans for choice according to the needs and special requirements of users in different sectors;
Sale service
1. Ensure product with high quality and pre-commissioning before delivery;
2. Delivery on time;
3. Provide full set of documents as customer`s requirements.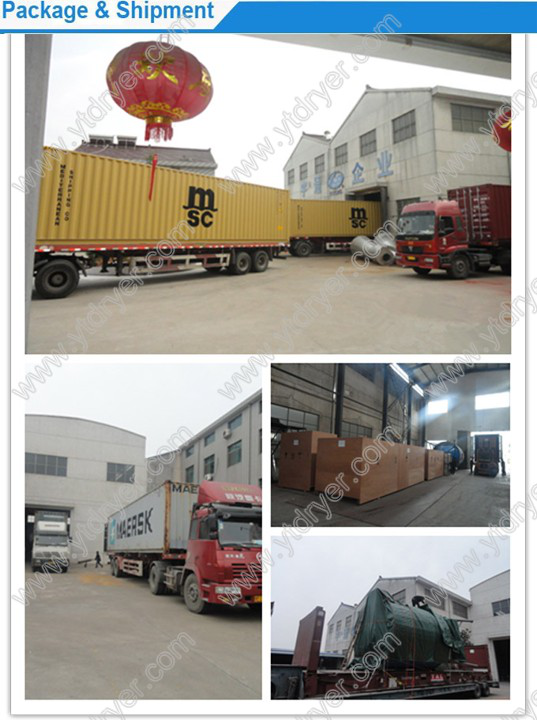 Service commitment
1. Provide clients one-year warranty to make sure the machine work well;
2. We always keep certain inventory level of spare parts, which means the replacements can be sent to you timely;
3. Send every client a preferential quotation.